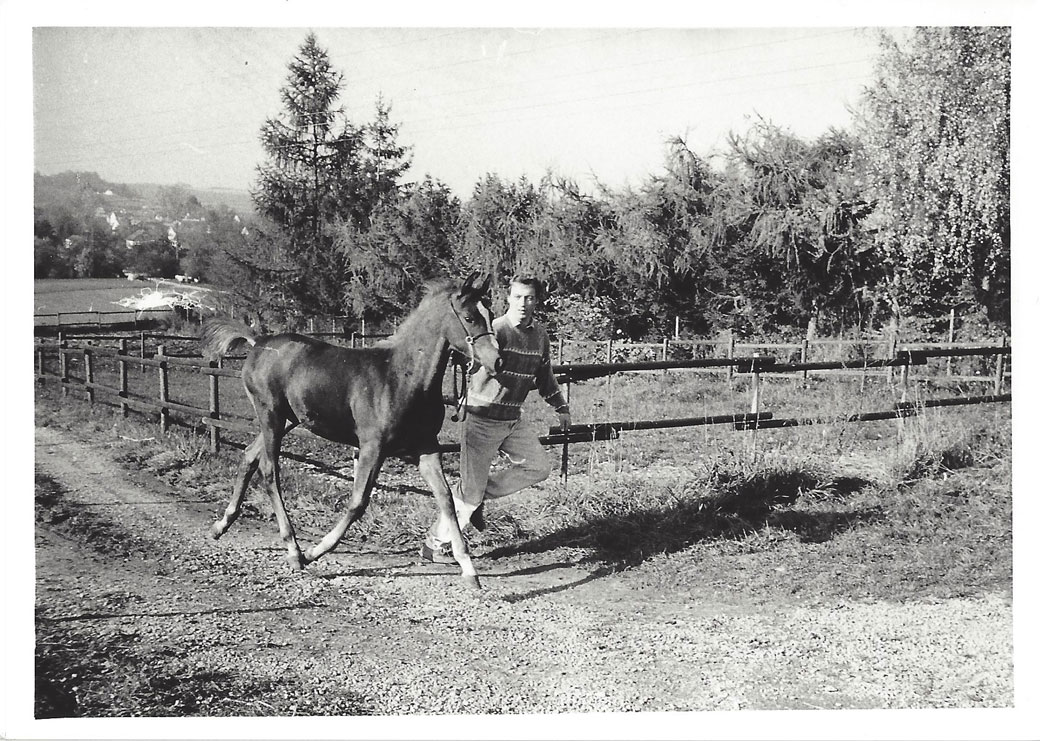 Gegründet 1984
Im Eyachtal bei Haigerloch gelegen züchten wir bereits seit dem Jahr 1984 Vollblutaraber. Unser Gestütsgelände umfasst zwischenzeitlich knapp 35 Hektar, auf welchem die Pferde eine ausgeglichene und artgerechte Aufzucht genießen. Unserem Hof haben wir den klangvollen Namen Inspired Stud gegeben. Unsere Nachzucht trägt entsprechend auch das Wort ``Inspired`` im Namen.
Built in 1984
Located in the Eyachtal near Haigerloch, we have been breeding Arabian horses since 1984. Our stud farm now covers almost 35 hectares, on which the horses enjoy a balanced and species-appropriate rearing. We have given our farm the name Inspired Stud. Our offspring also carries the word ``Inspired`` in the name.
Stallbau
Ende der 90er Jahre erweiterten wir unseren Hof um ein Stallgebäude. Von nun an könnten wir auch bei schlechtem Wetter entspannt mit den Pferden arbeiten.
Horse stable
At the end of the 90s we expanded our farm with a stable building. From now on we could work relaxed with the horses even in bad weather.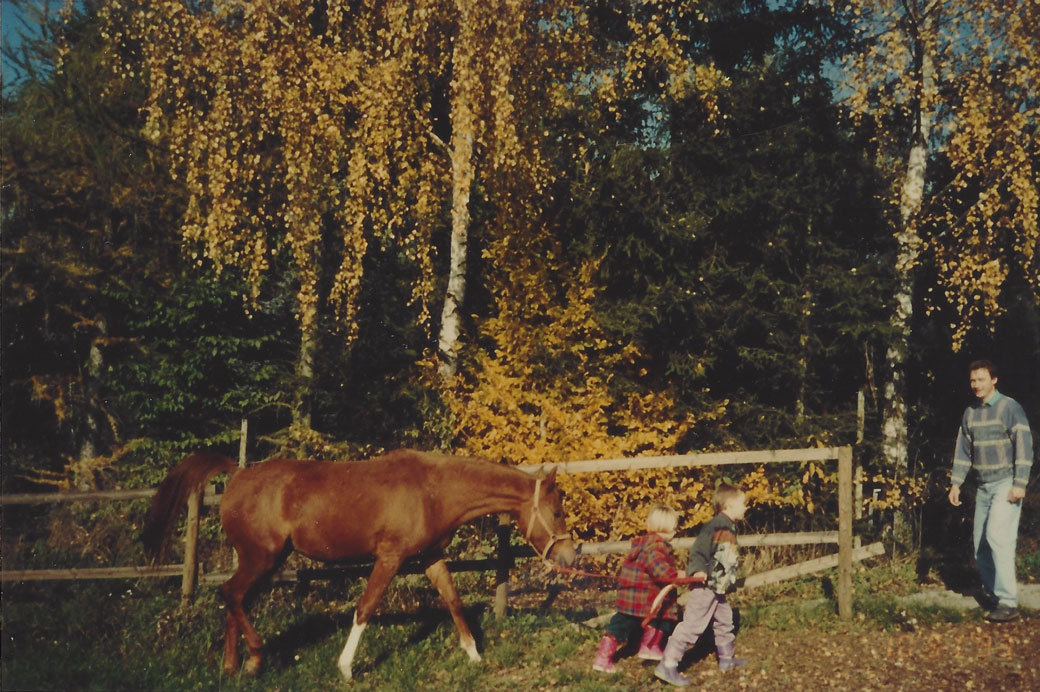 Das Leben auf unserem Gestüt
Unser Hof ist ein reiner Familienbetrieb bei dem von klein auf immer jeder mitgeholfen hat.
Auf dem Bild zu sehen sind Jasmin und Sven mit Ihrem Papa Gerhard beim Spaziergang mit einer der Stuten.
Farm life
Our farm is a purely family-run business where everyone has helped from an early age.
In the picture you can see Jasmin and Sven with their papa Gerhard walking with one of the mares.
Unsere erfolgreiche Nachzucht
Im Jahre 1998 kam unsere Stute Natalia zur Welt, welche bis heute unserer erfolgreichste Zuchtstute ist. Nach einigen Schauerfolgen, wie Marbach und Baden Baden 1999, ist Ihre Nachzucht bis heute in Zuchtprogrammen in Deutschland, den Vereinten Arabischen Emiraten und dem Oman erfolgreich im Einsatz.
Uur successful offspring is born
Our mare Natalia was born in 1998, which is still our most successful broodmare. After some show successes, such as Marbach and Baden Baden in 1999, your offspring is still successfully used in breeding programs in Germany, the United Arab Emirates and Oman.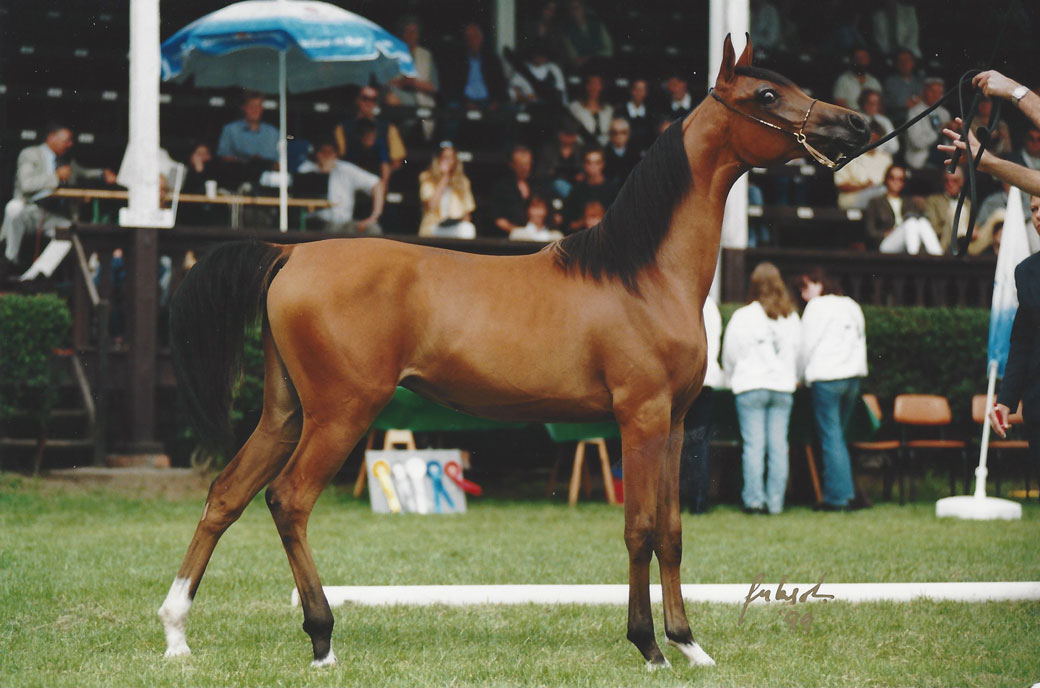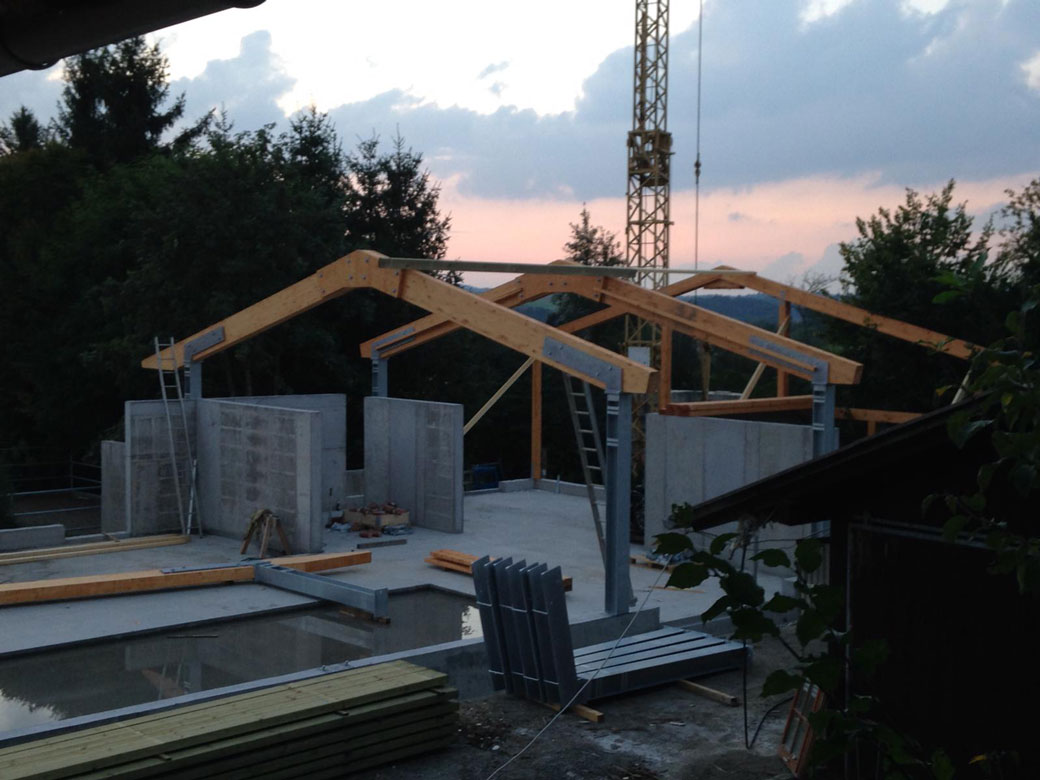 Träume werden wahr
Mit dem Bau eines großen und modernen Pferdestalls erfüllten wir uns 2012 unseren großen Traum. Auf den angrenzenden Paddocks haben unserer Stuten nun eine wunderbare Aussicht über den Hof.
Dreams come true
With the construction of a large and modern horse stable, we fulfilled our big dream in 2012. On the adjacent paddocks, our mares now have a wonderful view of the farm.
Gründungsmitglied European Breeders Trust
Unser Gestüt ist Gründungsmitglied der European Breeders Trust AG seit 2017. Seit der Gründung stellt Sven Schick auch den Vorstand der Aktiengesellschaft. Die European Breeders Trust AG ist eine Vereinigung Europäischer Züchter von Vollblutaraberpferden mit dem Ziel, die Mitglieder in Zucht und Vermarktung zu unterstützen.
Founding member European Breeders Trust
Our stud has been a founding member of European Breeders Trust AG since 2017. Since its foundation, Sven Schick has also been the board of the public limited company. The European Breeders Trust AG is an association of European breeders of Arabian thoroughbred horses with the aim of supporting the members in breeding and marketing.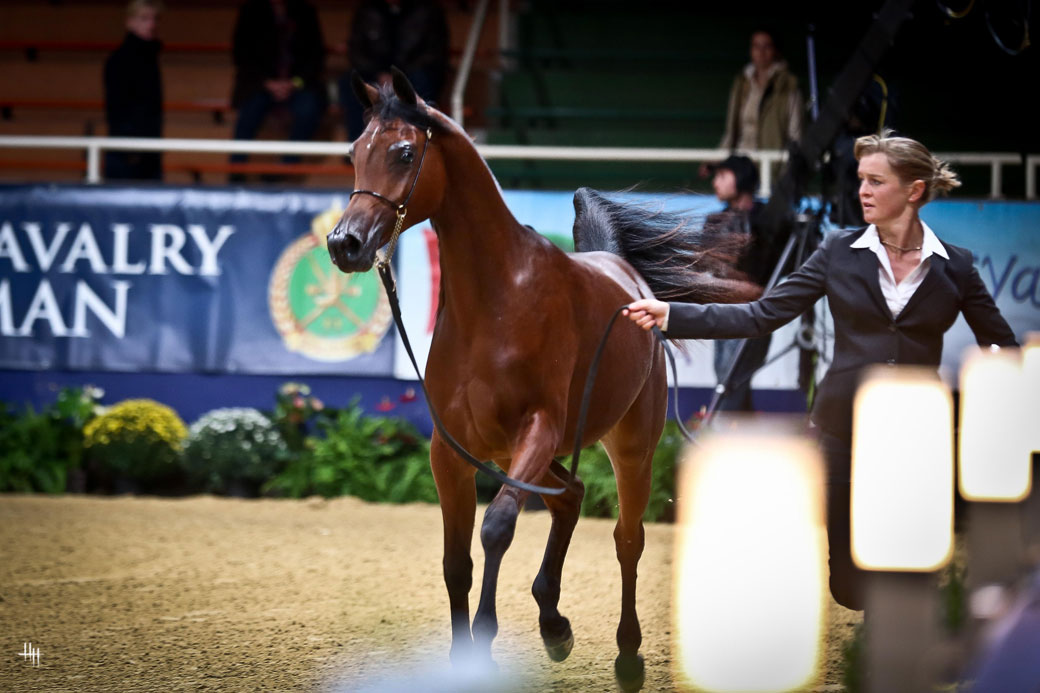 Vollblutaraber Zucht
Auf unserem Hof kommen im Jahr rund 3 Fohlen zur Welt. Neben Typ, korrektem Körperbau und ausdrucksstarken Bewegungen legen wir vor allem auf einen ausgeglichenen und intelligenten Charakter wert. Unsere Stuten werden nur mit den besten Hengsten der Welt gedeckt, um diesen zu finden sind wir das ganze Jahr über auf Pferdeschauen und Gestüten zu Gast.
Arabian horse breeding
Around 3 foals are born on our farm every year. In addition to type, correct physique and expressive movements, we particularly value a balanced and intelligent character. Our mares are only bred with the best stallions in the world. To find them we are guests at horse shows and studs all year round.
2017 Start der Wagyuzucht
Dass bei uns nicht nur Araberpferde, sondern auch Wagyu-Rinder zu Hause sind haben wir Gerhard Schick zu verdanken. Nachdem er einen Beitrag über die Rasse Wagyu gesehen hatte keimte die Idee sich auch mit der edelsten Rasse der Rinder zu beschäftigen. Mit dem Kauf von ``Madoka`` begannen wir 2017 unseren zweiten Zuchtzweig.
Start of wagyu breeding
We owe it to Gerhard Schick that we are not only home to Arabian horses, but also Wagyu cattle. After seeing an article about the Wagyu breed, the idea of dealing with the noblest breed of cattle sprouted. With the purchase of ``Madoka`` we started our second breeding branch in 2017.